Where ViroMax Viral-Bacterial Filter Is Used
The ViroMax viral-bacterial filter is commonly used in breathing circuits that follow an international standard (ISO 5356-1) for connectors. These connectors share a system of inner and outer diameters (15 mm and/or 22 mm) so that tubing can connect to a ventilator, an elbow can connect a facemask and a breathing circuit, a breathing bag can connect to a circuit, and so on.
In dental nitrous oxide circuits, different gas delivery and scavenging systems may not be universally compatible across various companies. Still, many nitrous oxide circuits share some specifications, such as a flow meter with standard 22 mm connectors for the reservoir bag and a corrugated tubing (sometimes called "anatomical dead space") for fresh gas delivery. There also may be an elbow connector between the flow head and the corrugated tubing.
At the end of that fresh gas tubing, on the patient side, a splitter or a Y-connector connects to disposable or autoclavable silicone tubing that delivers fresh gas to the nasal hood. By sitting between the splitter and the corrugated tubing, the ViroMax filter can help protect the corrugated tubing, the breathing bag, and the flow meter from cross-contamination. This allows dental offices to follow manufacturer-recommended cleaning and maintenance of the tubing, the reservoir bag and the flow head instead of having to change them with each patient.
But if your nitrous oxide circuit and scavenging system do not have any industry-standard 22 mm connectors, the ViroMax will not fit. Please, read on to learn more. 
Where to Place the ViroMax Filter in a Porter Nitrous Oxide Circuit
Dr. Jonathon Lee of Happy Healthy Teeth, in the San Francisco Bay Area, was kind enough to share a couple of photos and a video of how a viral-bacterial filter could help protect his Porter nitrous circuit.
In the photo below, the splitter has a 22 mm outer diameter (22 male) which connects to the ViroMax filter, which has a 22 mm inner diameter (22 female). The bottom of the ViroMax has a 22 mm outer diameter (22 male) that connects to the tubing cuff with a 22 mm inner diameter (22 female).
And if you follow the corrugated tubing all the way to the flow meter, that end of the tubing has a 22 mm inner diameter (22 female) and is connected to the 22 male side of an elbow connector. The other end of that elbow connector (22 female) then connects to the fresh gas connector (22 male) on the flow head. 
In the following video, Dr. Lee explains in detail where to place a viral-bacterial filter along the circuit.
The following photos shows where to place the ViroMax filter in a Matrx MDS Digital MDM flowmeter head. The 22 mm ID side of the ViroMax filter fits the 22 mm ID fresh gas port on the flow head. (Photo courtesy of Dr. Maryam Mohammadi of Beverly Pediatric Dentistry, in D.C. metro.)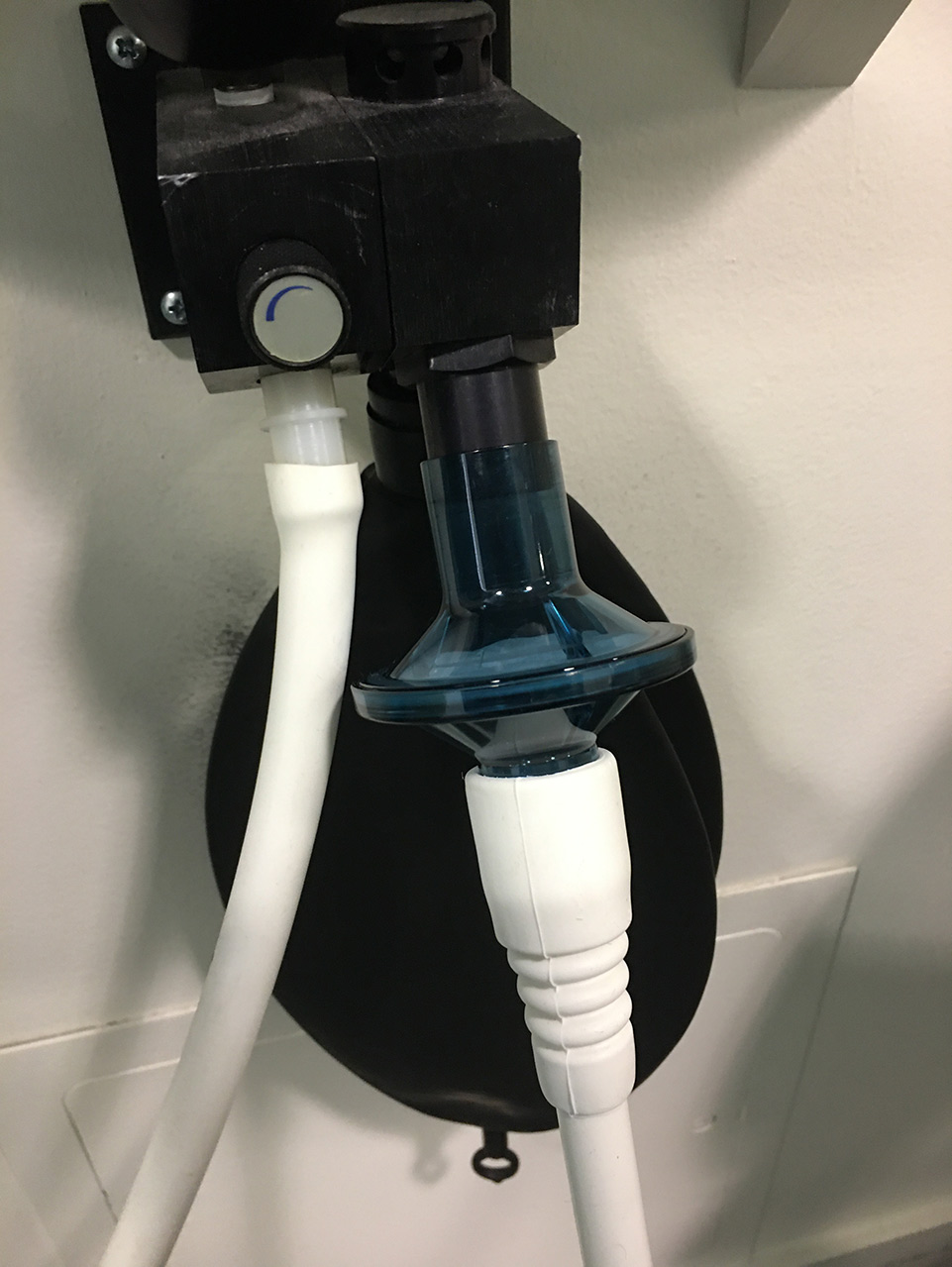 Some Systems Do Not Allow Filters
Many Porter and Accutron scavenging systems, for example, use a combination of standard breathing circuit tubing (22 mm, about 7/8 in) with proprietary nasal hoods.
But in some nitrous oxide systems, including some bagless systems, low-profile nasal hoods connect to silicone tubing that connects directly to the flow head without an adapter kit. In the absence of any standard 22 mm connectors, such as a 22 mm tubing or a 22 mm elbow, the ViroMax filter would not fit such systems.
If your system has a 22 mm adapter that connects to the flow head, you could place the ViroMax between the adapter and the flow head to help protect the flow head.
Characteristics of the ViroMax Filter
Single-patient, single-session use: the ViroMax filter is FDA-cleared for single-patient, single-session use only. If a patient's treatment plan requires multiple visits, the patient would need a new filter each time.
Disposable: the ViroMax is a disposable filter and cannot be cold-sterilized or autoclaved.
Filtration Efficiency: For the viral filtration efficiency, the ViroMax filters were tested at the Nelson Laboratories using ΦX 174, a bacteriophage with 5,386 nucleotides and one that's tiny at about 27 nm (0.027 µm).
The virion was nebulized then aerosolized to mimic respiratory droplets with a mean size of 2.8 µm. Generally, aerosolized respiratory droplets are smaller than 5 µm.
The bacterial filtration efficiency was tested with S. aureus using an analogous method and a mean particle size of 3.0 µm.
The ViroMax achieved over 99.999% bacterial filtration efficiency and over 99.99% viral filtration efficiency.
Order ViroMax Filters
Click the button below to order the ViroMax viral-bacterial filters. Due to high demand worldwide for viral-bacterial filters, there may be additional lead time or partial shipments in order to ensure equitable distribution.